Compensation and Benefits
Compensation and Benefits
Center City PCS offers the following benefits to all full-time employees.
Medical, Dental and Vision insurance premiums subsidized by employer
401k Retirement Plan with 5% employer match
Pre-tax Flexible Spending Accounts
Life and Disability Insurance
Paid sick and personal time off
Wellness Wednesdays: On the first Wednesday of the month teachers leave three hours early to go to doctor's appointments, exercise, and otherwise take care of themselves.
Center City PCS offers competitive teaching salaries commensurate with experience. Teachers are also provided with robust professional development to support growth in their instructional practice.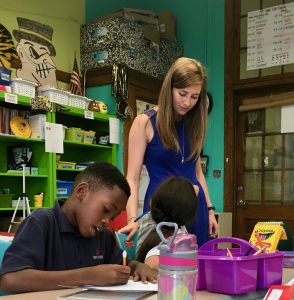 "Center City is a great place to work because of the family feel that each school has. Because we have only one class per grade, teachers get the opportunity to get to know parents and siblings' of their students on a much more personal level. The home visit and APTT (Academic Parent Teacher Team) process give teachers multiple opportunities to hear from families and learn their stories.  As a teacher at Center City, I find the relationships that I have with families are one of the main reasons that I come to work each day. I love that I still get greetings and text messages from families I taught many years ago."
-Anna O'Brien, Brightwood Campus
Applying to Center City PCS is easy! We do not have admission criteria and welcome all families who are interested in our programs. We invite students for grades PreKindergarten (4 years old) to 8th grade to apply at MySchoolDC.org.
Center City's teachers are dedicated to developing the whole child through a rigorous, character-infused academic program. Find out if you are ready to become a Center City teacher.
Every child deserves a quality education and we strive to provide small, safe family environments that are conducive to learning. Your donation helps to ensure we are nurturing and developing the next generation of leaders.